Japan is not only famous for cherry blossoms, Mount Fuji but also the cradle of a unique and diverse culture with friendly, hospitable people and advanced science.
Geographic location, area, and terrain
Japan is located in the East of Asia, the West of the Pacific Ocean. Japan consists of 4 main islands, Honshu, Hokkaido, Kyushuy and Shikoku, many island ranges and about 3,900 small islands. Honshu occupies over 60% of the area. The neighboring countries and territories in the waters of Japan are Russia, North Korea, and South Korea; in the East China Sea are China and Taiwan; further south are the Philippines and the Northern Mariana Islands.
The total area of ​​Japan is 377,815 km², ranking 60th in the world in terms of area and occupying less than 0.3% of the total land area of ​​the world …
Climate characteristics
The Japanese islands are located in a temperate climate. In most parts of Japan, there are four distinct seasons. Summers are warm and humid, beginning around mid-July; Spring and Autumn are the most pleasant seasons of the year. Because of the heavy rain and mild climate, throughout the Japanese archipelago, there are fertile forests and lush greenery. As an archipelago in the western Pacific Ocean, Japan also suffers from frequent natural disasters such as typhoons, tsunamis and earthquakes. However, with the development of a warning system, Japanese geologists and climate researchers were able to predict and measure bad weather situations to a certain extent to alert people.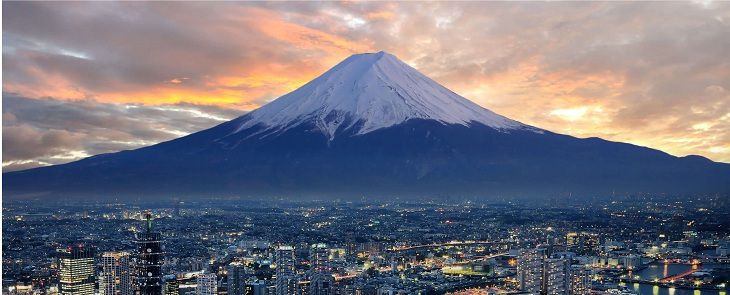 Japanese economy
Japan is a very resource-poor country except for wood and seafood, while its population is overcrowded, most of which is imported. However, thanks to the Meiji Restoration and the occupation of a number of colonies, by the Second World War, the size of Japan's economy had reached the level of European powers. In 1940, Japan's total economic output (GDP) (converted into USD 1990 prices) reached 192 billion USD, compared to the UK with 316 billion USD, France with 164 billion USD, Italy with 147 billion USD, Germany is 387 billion USD, Soviet Union is 417 billion USD.
Population
By July 2010, Japan's population now reaches nearly 127 million, ranking 10th in the world.
The Japanese population is unevenly distributed throughout the country. The population is most concentrated in the Pacific Rim. There are several reasons why the population density in Japan is so different. Only 15% of land is suitable for construction, so residential areas are confined to relatively small areas. Agricultural land is also lacking, so farming is concentrated in some coastal plains. In addition, climate is an important factor affecting population distribution, as the East and the South are warm and suitable for settlement. These regions are also convenient for trade relations with other countries in the Pacific region and so are also famous industrial areas.